Welcome to MCD
MCD Shades have long enjoyed a great reputation for making quality products and backing them with great customer service. During my visit I met with Dave Townsley, the CEO of MCD, as well as numerous other members of the company. During this time I was able to learn more about the company, it's products, and it's commitments to it's customers. Originally MCD stood for Motor Coach Designs. However, as the value of their products became known many commercial buildings began purchasing their solar protection products so the name settled in as MCD Innovations, which is a better fit given that they are committed to bringing out new, innovative products.
I found that MCD has a number of things going for it. First of all, everyone is very friendly and customer service oriented. It didn't matter who I talked to. Everyone did whatever they could to make my visit and installation as enjoyable as could be. Secondly, they do not cut corners. They use only the highest quality components and materials in their products and do not cheapen the product just to cut costs. Thirdly, they are constantly developing new products and improving existing products. They are not just looking for "good enough", they are striving for perfection and their commitment to engineering and product development clearly reinforces that. Lastly, there's the solar screen material that they have made for them. You'd think that screen is screen but that's just not true. I did some tests and found that the MCD solar fabric is vastly different than the "me too" material used by all of their competitors. More on that later when we get to the Products chapter. MCD takes pride in their product and takes measures to ensure that everything is perfect when the customer receives it. Every shade is mounted on a test stand and thoroughly tested and adjusted before it leaves the factory. It is then placed in preformed coated cardboard boxes that will withstand even the roughest handling during shipping to ensure that it arrives intact at the customer's location.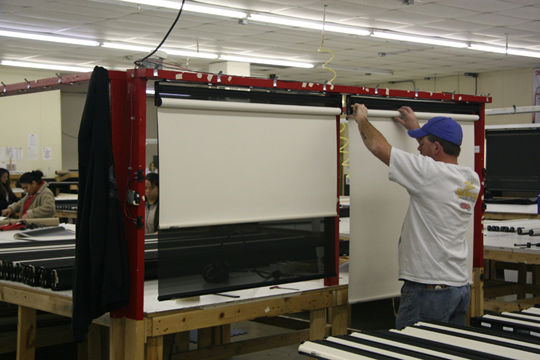 Testing Shades Prior to Shipment
Many OEMs, such as Winnebago, Tiffin, and Newmar, use MCD products in their featured coaches. Naturally, the most popular products are the American Duo roller shades but MCD makes a complete line of products. Their 26,000 square foot facility uses state of the art equipment. I found that every order is logged and every product tagged with a build number. Every screen or shade is cut or drilled on a computer controlled machine. Even the stitch marks are laid down with an invisible UV marker that is only visible to the person who uses the UV equipped sewing machine to sew the hem. If you ever need a replacement shade all you have to do is tell them the build number and their computer system can retrieve that information and create a replacement shade to the exact same dimensions with zero tolerance.
MCD has a number of certified installers throughout the country. In addition they offer a shade installation service right at the plant in McKinney for those who want to take advantage of that opportunity. They provide eight complimentary sites for any RVer who is there for installation work. Customers may remain in their coaches during installation if desired. They are very pet friendly and the receptionist insisted on bringing our pet in to meet her. And yes, they will have treats. In addition they will provide you with an information packet on things to see and do in the Dallas/McKinney area and offer to assist you in any way. Naturally, this information pack comes in a handy tote bag made with durable MCD solar screen material. When you arrive at MCD for your appointment you'll be met by their staff, who will measure your coach for you and advise you of the many options that are available.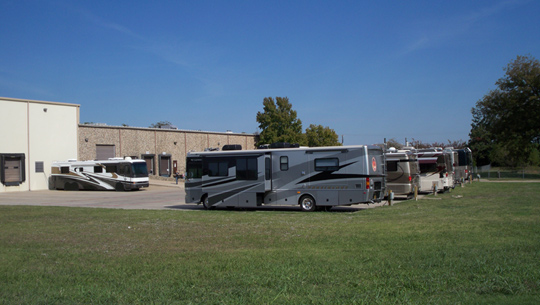 RV Parking for Customers
Overall I found MCD to be one of those few companies who has it all together. Great customer service along with an excellent high quality product, and innovative technology and product development will keep them a moving target that their competitors will never be able to match. In the next chapter we'll see what kind of products MCD makes.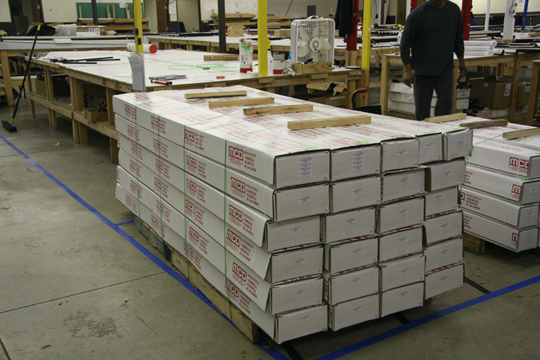 Another Pallet of MCD Shades Ready for Shipment.
Article By: Mark Quasius – "RVCruzer.com"